Silver Ferns victorious in extra time thriller
January 21, 2019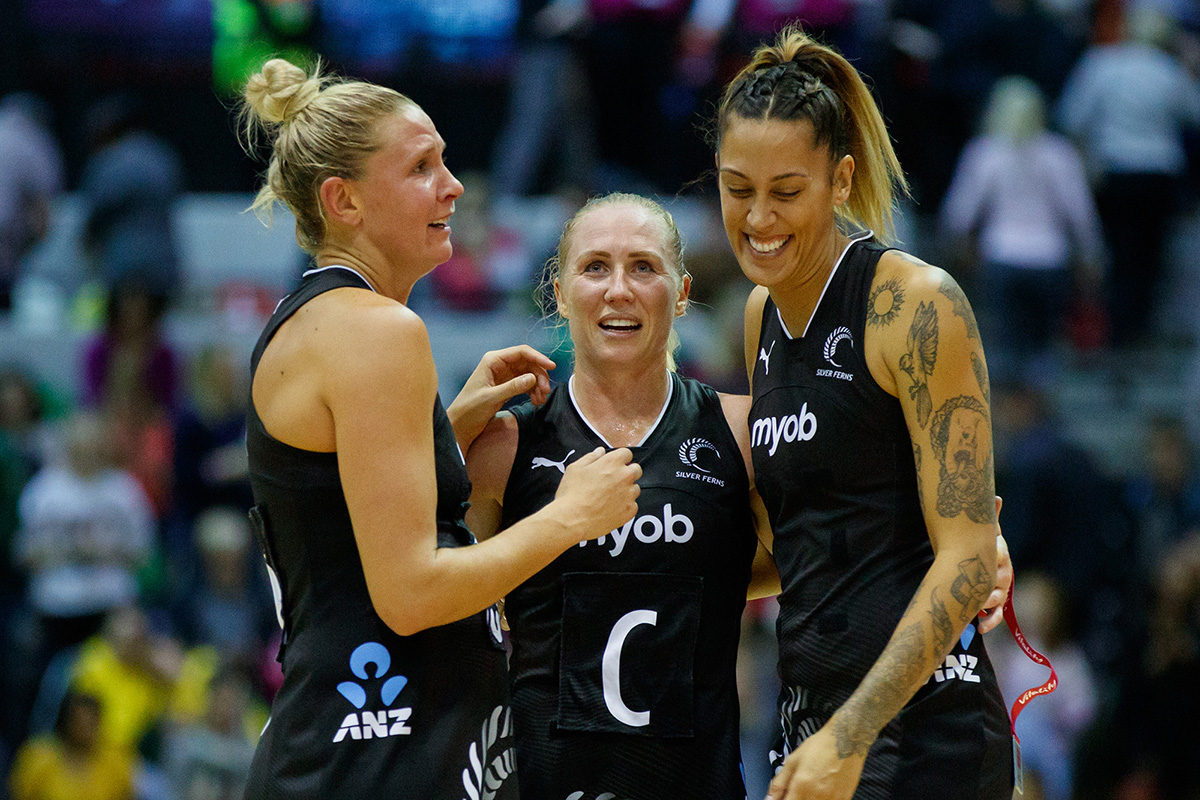 The Silver Ferns closed the Northern Netball Quad Series in thrilling fashion, holding their nerve to clinch a dramatic 62-60 extra time win over the South Africa Proteas in London on Monday.
In an entertaining spectacle, the Silver Ferns consolidated their progress towards July's Netball World Cup by keeping a tenacious and spirited Proteas at bay after the scores were tied 45-all at the end of regular time.
After producing an upset win over the England Roses the previous day, the Proteas pushed the Silver Ferns all the way, shooter Maria Folau nailing the all-important equaliser to leave the scores tied 56-all at the end of the required 14 minutes of extra time, with just seconds remaining.
That left the equation of the winner needing to forge a two-goal advantage to secure the spoils which took another six minutes to decide.
Experience and composure were key for the Silver Ferns, on their seventh occasion of contesting an extra time match, as a pulsating and tense last stand played out, Folau, captain Laura Langman and Casey Kopua leading by example.
Retaining the well-performed line-up from the previous day's outing against Australia, the Silver Ferns flew out of the blocks. Taking advantage of the Proteas settling into a new shooting line-up, the Silver Ferns were into their work quickly, skipping out to an early 8-0 lead while forcing South Africa into change.
Left scoreless after the first seven minutes, the Proteas regrouped, a strong presence from shooters Lenize Potgieter and Maryka Holtzhausen helping close the gap to a 14-9 lead for the Silver Ferns at the first break.
With shooter Ameliaranne Ekenasio unable to take the court for the Silver Ferns during the second quarter due to a bloody nose, Maia Wilson was given her first opportunity of the series against an increasingly testing challenge from the ever-improving Proteas.
With the Silver Ferns taking time to adjust to their new line-up, South Africa pounced. Captain and centre Bongi Msomi was a livewire with her slick contribution though court and deft feeding to her shooters as the Proteas further reduced the Silver Ferns margin to a 22-20 lead at the main break.
Ekenasio returned for the third stanza and into an increasingly tight and evenly contested match-up.
Both teams produced strong attacking play as the Proteas continued to push the Silver Ferns at every opportunity.
Defender Kopua, once again, showcased her successful return to the international stage, her vast experience and aerial ability being a key to turnover opportunities. She was well matched by Proteas counterpart Karla Pretorious, who was a forceful presence with her speed and ability to sniff out an intercept.
The Proteas broke the goal-for-goal stalemate to end the quarter with a two-goal burst, leaving the teams all-square at 34-apiece at the last break and the expectation of an exciting finish which didn't disappoint.