PUMA Dream Dress competition
April 16, 2020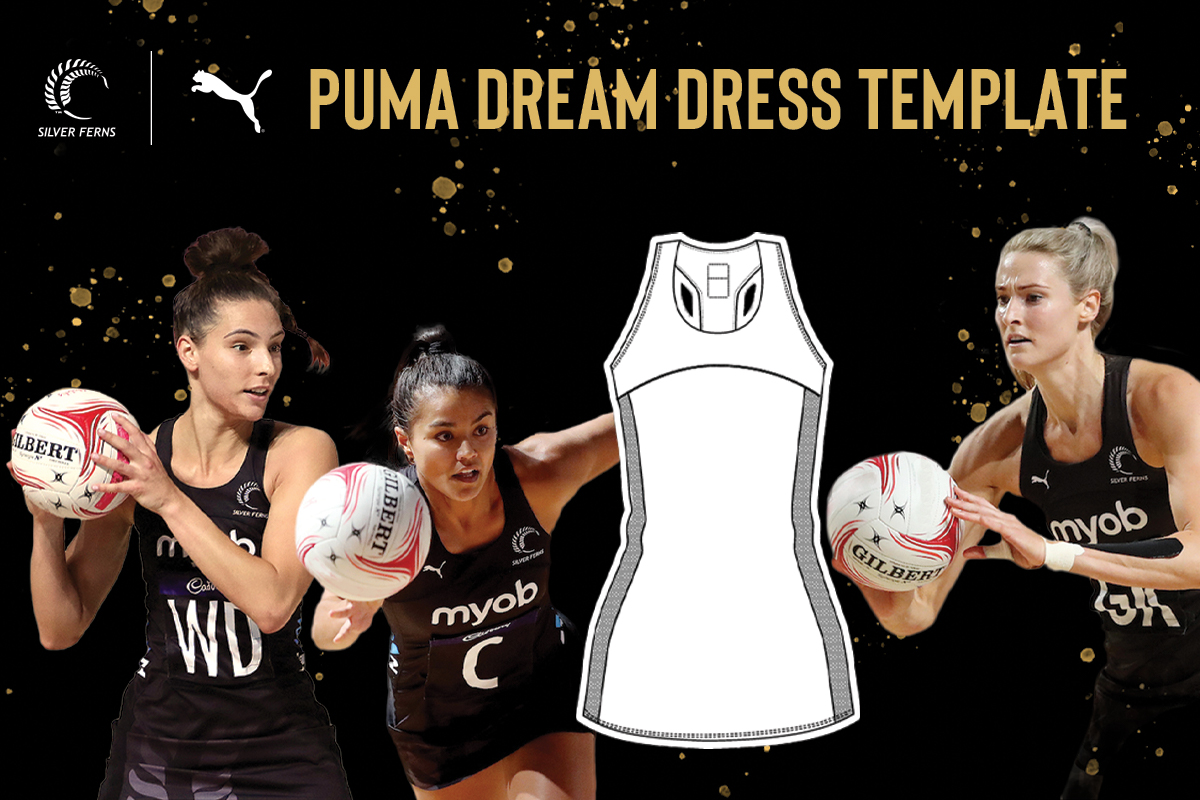 Our friends at PUMA NZ are encouraging our SilverFans to be creative and innovative during isolation and have come up with an awesome competition to do just that - designing your PUMA Dream Dress for the Silver Ferns!
Simply download the template here and design your PUMA Dream Dress either on the computer or on paper.
The winner of the PUMA Dream Dress competition will win a $200 voucher for the PUMA NZ online store. The winner will be selected on 23 April at 5pm.

To enter, either tag and follow @silverfernsnz and @pumanewzealand on Instagram or email your artwork to This email address is being protected from spambots. You need JavaScript enabled to view it.
Good luck SilverFans!
*note this is only open to NZ residents
---
T&C's
Terms and Conditions
General Terms and Conditions of Entry
The Promotion, PUMA Dream Dress Competition, is offered by Netball New Zealand Incorporated (the Promoter) of Level 1, Windsor Court, 128 Parnell Road, Auckland 1052.
The Promotion commences at 16 April 2020 @ 12pm and concludes at 23 April 2020 @ 5pm (Promotion Period). No entries will be accepted outside of the Promotion Period.
How to Enter: entry in the Netball New Zealand's competition is open to New Zealand residents only and is subject to these Terms and Conditions. To enter the Promotion, entrants must design a PUMA Dream Dress to apply, share on their Instagram page, tagging @pumanewzealand and @silverfernsnz or email

This email address is being protected from spambots. You need JavaScript enabled to view it.

with the design attached. One entry per person.
The Promotion: includes x1 $200 PUMA NZ online voucher to one winner.
One winner will be selected based on their dress design by the promoter at 24 April 2020, the morning following the post during the Promotional Period.
The Promotion does not require the winning dress design be manufactured or produced by PUMA or the Silver Ferns.
Each entrant agrees to their designs be used as inspiration to future Silver Ferns dress designs.
Employees of the Promoter or the Promoter's associated agencies or companies directly involved in the Promotion (as determined by the Promoter) and their immediate family members or any other person working on behalf of Netball New Zealand are not eligible to enter the Promotion.
Each entrant fully and unconditionally agrees to be bound by these Terms and Conditions and acknowledges that the decisions of the Promoter on all matters relating to the Promotion are final and binding and no correspondence will be entered into.
The Promoter reserves the right, and by their entry into the Promotion each entrant consents to the Promoter exercising this right, to validate and check the authenticity of entries.
The Prize Winners will be notified via email or direct message by the Promoter and the entrant will be advised that their entry has won.
The Prize Winner will have to provide their personal details in order to set up the PUMA NZ online voucher.
Should the Prize Winner/s or a Prize Winner/s cannot be contacted within 24 hours of the prize draw, the Prize will be forfeited and the next best design will be selected among the remaining eligible entries. This will take place 72 hours after prior selection.
The Prize is not redeemable for cash, exchangeable, or transferable.
The Promoter will use its best endeavours to provide the Prize. If the Prize is unavailable for reasons beyond the Promoter's reasonable control, the Promoter reserves the right to substitute that Prize for a prize of equivalent value.
If for any reason beyond the Promoter's reasonable control this Promotion is not capable of running as planned, for reasons including infection by computer virus, bugs, tampering, unauthorised intervention, fraud, technical failures of any other cause beyond the reasonable control of the Promoter which corrupts or affects the administration, security, fairness or integrity of the Promotion, the Promoter reserves the right in its sole discretion to cancel, suspend, modify or terminate this Promotion. The Promoter will not be liable for any claims arising out of or in connection with any suspension, modification or termination, except for any liability which cannot be excluded by law.
Incomplete, inaccurate or indecipherable entries will be deemed invalid. No responsibility by the Promoter is accepted for non-receipt for any reason of an entry.
Any cancellation, suspension or modification to the Promotion will be notified on the Promotion website SilverFerns.co.nz
The Prize Winner/s must be willing to have his or her full name, image and dress design shared publicly as part of any marketing and PR promotion by the Promoter and its partners, and the Prize Winner/s shall not receive any additional compensation in respect of this. This includes but is not limited to social media, event and team websites and media releases.
Information on How to Enter and all details on the Promotion advertisement form part of these Terms and Conditions. To the extent of any inconsistency, the Terms and Conditions below prevail. By entering, entrants accept these Terms and Conditions.
These Terms and Conditions will be posted on SilverFerns.co.nz for the duration of the Promotion. The Promoter may, at its own discretion, choose not to award the Prize in the event that an entrant has breached these terms and conditions.
The Promoter's failure to enforce any term of these Terms and Conditions shall not constitute a waiver of that or any other provision by the Promoter.
Information collected pursuant to the Promotion from entrants will be handled in accordance with all applicable laws in New Zealand, including the Privacy Act, and will be subject to the Promoter's Privacy Policy available at SilverFerns.co.nz All entrants' details will only be held for the purposes of this Promotion (which may include disclosure to third parties for the purposes of processing and conducting the Promotion). By entering the Promotion, entrants consent to the use of their personal information as described.
Entrants may access, and request correction of, their personal information held by contacting the Promoter at

This email address is being protected from spambots. You need JavaScript enabled to view it.

OR PO Box 99710, Newmarket, Auckland 1149.
These Terms and Conditions shall be governed by the laws of New Zealand and each entrant agrees to submit to the non-exclusive jurisdiction of the courts of New Zealand.
Facebook: any Promotion run through or in connection with Netball New Zealand's social media accounts (including the Silver Ferns or ANZP Facebook, Instagram and Twitter accounts) is not sponsored, endorsed, administered by, or associated with those social media platforms and entrants acknowledge that applicable social media platforms have no liability to entrants in relation to the Promotion. Entrants agree to fully release applicable social media platforms from any and all liability in relation to their participation in this Promotion. All information entrants provide in connection with this Promotion is to the Promoter and not to applicable social media platforms.