At-home honeymoon just the ticket for Silver Ferns essential worker
April 28, 2020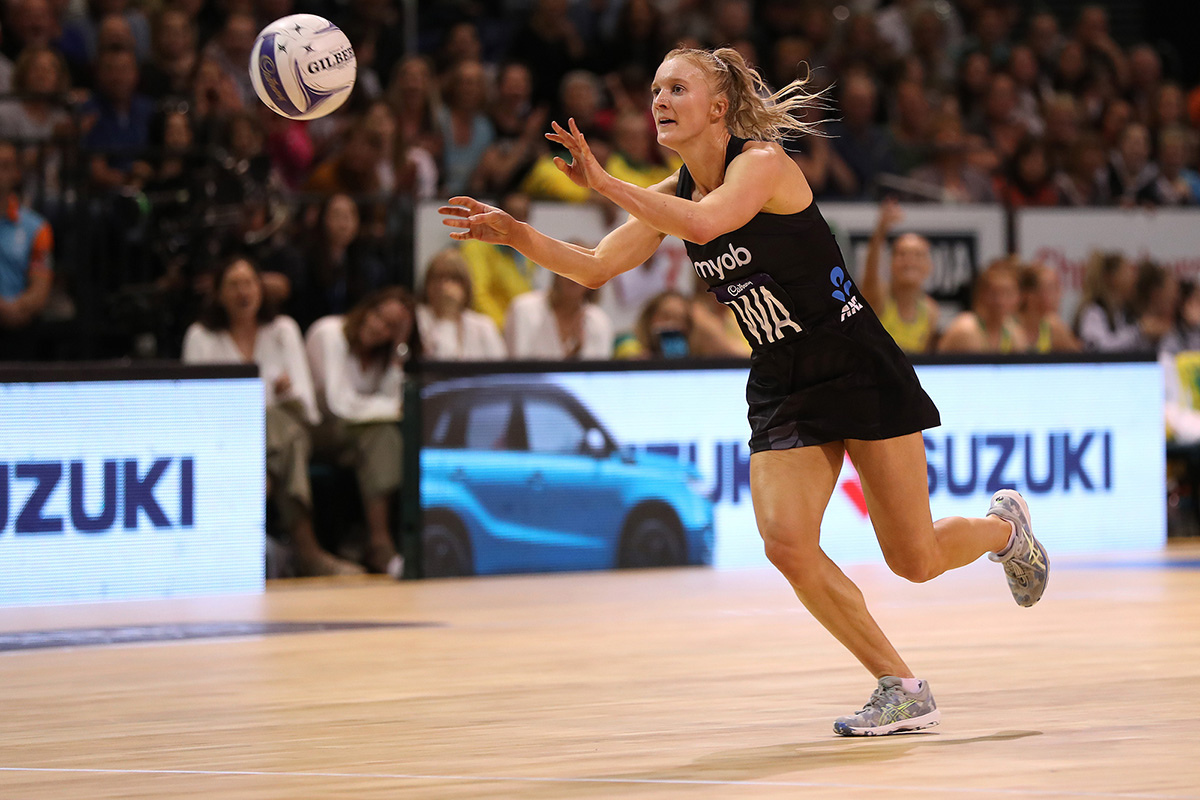 Silver Ferns midcourter Shannon Saunders and husband Marcus have finally got to have their honeymoon while as essential workers have also done their bit for the community during the COVID-19 lockdown.
It has been a honeymoon with a difference for pharmacist Saunders and her husband, who is in the police force, but there are no complaints from the ever-reliable midcourter after the pair married in January 2019.
"It's been really nice and I think it's definitely the most time we've spent together since we got married, so it's the honeymoon we haven't had yet. And it's the cheapest way to do it, just stay at home," she said.
"I've got to read a few more books than normal which has been nice and done a lot more baking but it has been good as well having a job to go to, see other people and just feel like you're helping as much as you can.
"We don't really get much of a break normally, so it's kind of nice to have a bit of forced downtime and just hang at home which I don't do very often. I suppose I'm lucky because I work a wee bit too and I'm able to get out of the house and do a little bit of that side of things."
As a pharmacist, Saunders, 29, is deemed an essential worker and has been doing part-time locum work at pharmacies in Dunedin during the lockdown.
"It's good to be able to be contributing as much as I can in these circumstances," she said.

"All the pharmacies I work in take good precautions, there's really good hygiene and we try and prevent as much as we can. People aren't coming into the pharmacies when they're sick, so the public's been really good about that, and I haven't been worried at all, really."
Saunders, who made her Silver Ferns debut in 2013 and has since added 74 Test caps, has maintained her training regime without too many problems. Being able to take equipment from her gym before it shut down has been a bonus and meant she is well set-up at home.
"The training is definitely a bit more challenging but I'm lucky in how I do work as I often do quite a few of the trainings on my own anyway so I'm used to having to push myself. But without the gym, you have to be quite innovative.
"It's fun to mix things up and try out different types of training that you can't normally do during the netball season, so I've been doing a bit more yoga and cross-fit type exercise and just trying to test myself. Changing it up is important to keep fresh and keep the boredom away."
Growing up on an orchard in Motueka, near Nelson, Saunders arrived at the Ascot Park Hotel Southern Steel in 2012 while studying in Dunedin and has been there ever since.
"We have been doing zoom meetings three times a week and do different things like weekly challenges and funny videos to keep us connected," she said.
"I think it all starts off really strong and as it keeps going on you don't really know how long it's going to be, it's probably got a little harder but I think now (going down to Level 3) we can see some light at the end of the tunnel and that should make things a bit easier."