Ekenasio honoured to retain Silver Ferns captaincy
August 26, 2020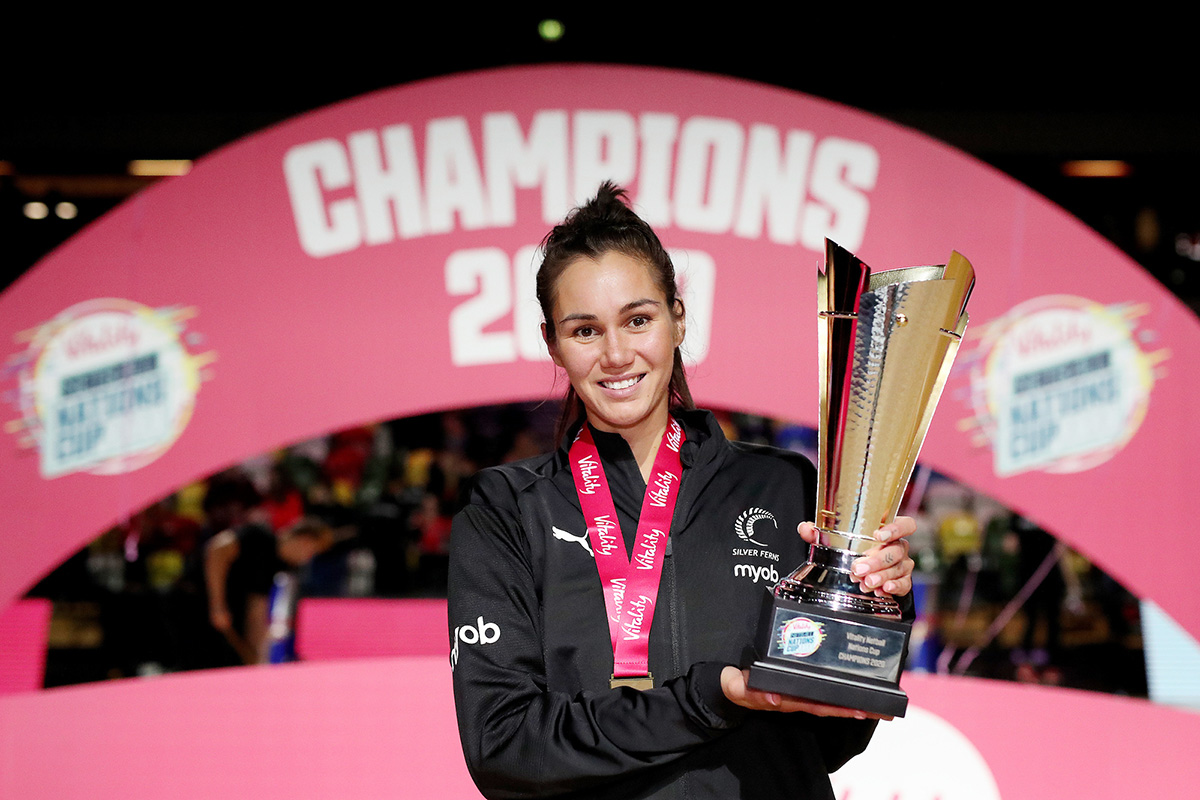 Watching their recent growth, coach Dame Noeline Taurua had no hesitation in retaining her leadership group, spearheaded by captain Ameliaranne Ekenasio.
Shooter Ekenasio will be supported by trusty midcourter Gina Crampton and dynamic defender Jane Watson as her vice-captains, the experienced trio adding important backbone in each third of the court.
Ekenasio had her first captaincy experience at any level when taking over from Laura Langman, who was rested for the successful Netball Nations Cup campaign in January.
With Langman confirming her international retirement in recent days and with it the last of the affectionately dubbed 'fossils' no longer available, the incumbent leadership group left a suitably strong impression on Taurua.
"I'm really pleased with our leadership group, with their showing in their respective ANZ Premiership teams and they now just need the opportunity and time to embed themselves in the current squad," Taurua said.
"When you look at the test caps that have left us in those three players (Langman, Maria Folau and Casey Kopua), it's definitely going to take a while and most of our players aren't up to that length of experience or time that they've had in the game.
"But in saying that, the likes of Ameliaranne, Gina and Jane, I feel, are starting to be standouts at a domestic level in their respective clubs and what I've seen over the last couple of (international) series, for example, the Nations Cup, they were standouts in that as well, and now the mantle has been passed on."
For Ekenasio, just being named in the squad is the highest of honours, and she was proud of the confidence placed in her by the coach.
"It's a really big honour to lead the team while feeling well supported by having Jane and Gina by my side and doing it all together," Ekenasio said.
"I believe we all do the leadership job, it's not just one of us. I believe whoever is the best person for the job will be the leader regardless of who it is. Even if there had been a change, I would have been okay with that because I know that right person will be in the job.
"I have definitely enjoyed it so far. There hasn't been a huge amount on my shoulders so far, and I've just been learning as I've gone along. The three of us have separate leadership styles so we complement each other nicely and all bring different things to the table.
Because of the on-going impact of COVID-19, the rest of the year's international season remains in limbo. However, with a Silver Ferns camp set for October, Ekenasio believes it's a prime opportunity to give the new squad time together and get acquainted.
"We just have to wait and see (if we'll get to play) but a really good thing that has become ingrained in our Silver Ferns culture is that we have to use our own team-mates, our own squad, as a marker for ourselves and only when we use that really well in training and train really hard against each, that we know we're getting the best out of each other and reaching our full potential," she said.
"And I think this is a really good time to put that into action because we just don't know what will be happening game-wise, so we have to make sure that we're getting the absolute most that we can out of each other during the camp."