NZ to play for bronze after losing to Jamaica
August 6, 2022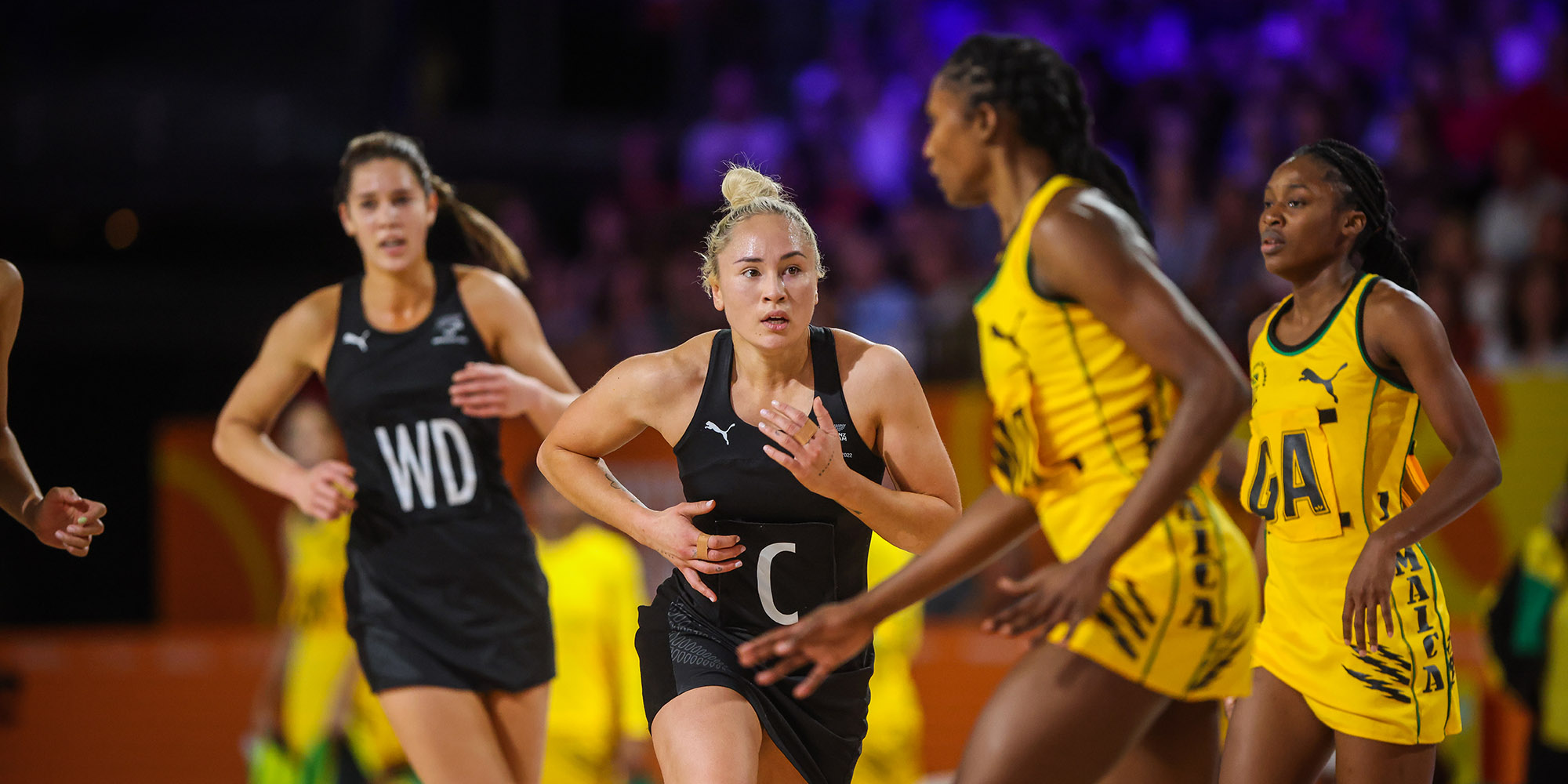 New Zealand will play off for the bronze medal after being beaten 67-51 by a well-credentialled Jamaica in the semi-finals of the Commonwealth Games netball tournament in Birmingham.

Advancing to their first final at a pinnacle event, discipline was a key factor for Jamaica, who remained on task throughout, excelling on attack and defence to shut the door and expertly defuse everything New Zealand could throw at them.

An improved second half, and winning the last quarter, was of little consolation for the women in black who were never allowed to get into the match. Rising young shooter Grace Nweke was a strong presence during her second-half efforts, nailing 24 from 24 shots, Kate Heffernan added value from the midcourt and Kelly Jury got her hands to turnover opportunities, albeit late in the piece.

"It's a tough loss, I thought Jamaica were amazing,'' New Zealand coach Dame Noeline Taurua said.

"When you've got the shooting prowess that they've got, it makes it difficult to turn over ball. You've got to treasure all ball that you've got and I thought at times we were good but at times we weren't."

"And that shows the gulf in our athleticism, in our ability to be disciplined, in our ability to run our feet and to be tidy in our skills. We gave our all but today we weren't good enough.''

With five pool matches to explore and test their court dynamics, New Zealand tweaked both ends for the semi-final showdown, experience and Jamaica's style being key factors.

Maia Wilson reverted to her more familiar position of goal shoot to pair with the in-form Te Paea Selby-Rickit under the hoop. At the other end of the court, Sulu Fitzpatrick also found herself in more accustomed territory when handed the custodian's bib of goalkeeper alongside her Mystics in-circle defensive partner Phoenix Karaka.

The writing was on the wall early for the New Zealanders, a poor start handing Jamaica a quickfire 4-0 lead and with it the confidence to push on, which they did in style.

Across all areas of the court, a mix of patience, ball retention and flamboyance from the Sunshine Girls helped kept New Zealand at arms-length. With tall timber at either end of the court, none was more effective than shooter Jhaniele Fowler, who often found herself in close proximity to the post and she took all opportunities on offer.

Defensively Latanya Wilson and Shamera Sterling put the squeeze on the New Zealand attacking end while helping Jamaica post an impressive 18-9 lead at the first quarter.

A stunned New Zealand made a better fist of the second stanza, with the shooters receiving cleaner ball through good positioning and quick feeds from Gina Crampton and Whitney Souness. But there were few crumbs in gaining turnover opportunities.

Showing no chinks, Jamaica's movement and court balance defied everything New Zealand could muster. With Jury coming on for Fitzpatrick and Kayla Johnson taking over at wing defence from Heffernan, New Zealand improved their scoring but Jamaica didn't miss a beat, converting another 18 for the second 15 minutes.

Fowler was imperious with 28 from 28 and New Zealand were left with a mountain to climb when trailing 36-22 at the main break.

With Nweke operating from goal shoot and Shannon Saunders wing attack, New Zealand produced their most competitive passages during the third stanza but they remained up against a brick wall-type resistance.

Heffernan showed plenty of enterprise from centre, unafraid to fire the ball into a heavily-marked Nweke's hands, but gaining bonus ball from their opponents proved a match-long problem.

The slight figure of goal attack Shanice Beckford, in tandem with the towering Fowler, was a show-stopping piece of Jamaica's effectiveness and efficiency. The pair provided a shooting masterclass while the aerial and athletic skills of the combined Sunshine Girls effort was an irresistible force.

With their flow and rhythm completely disrupted, New Zealand were well on the back foot when Jamaica took a handsome 52-35 lead into the final turn.