Silver Ferns rebound with spirited win against SPAR Proteas
January 26, 2018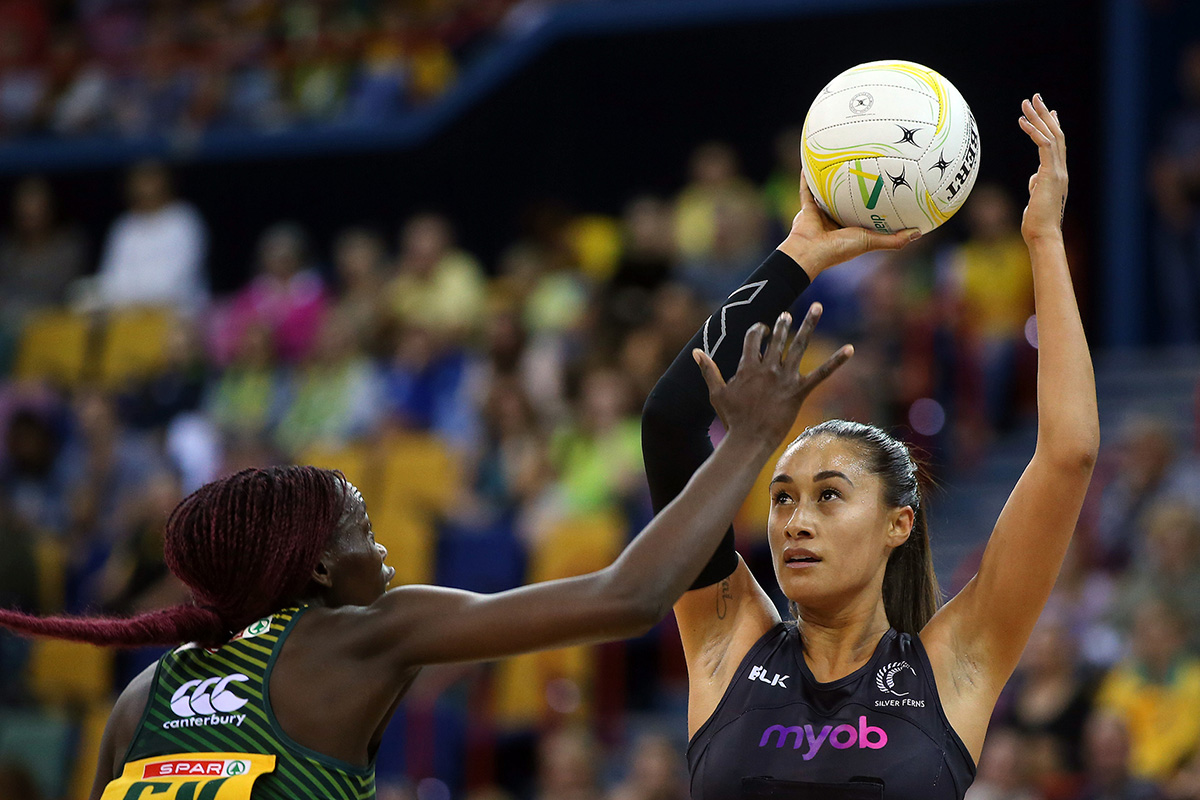 The Silver Ferns bounced back to winning ways after fending off a tenacious SPAR Proteas 51-46 to clinch an important result in the Netball Quad Series in Johannesburg on Friday.
Following a first-up loss to the England Roses on Sunday, the Silver Ferns produced a more consistent second outing, a strong first quarter setting up an eventual win against the Proteas.
With captain Katrina Grant leading from the front, the Silver Ferns established a first quarter edge while continuing to hold the ever-present Proteas at bay for the rest of the match.
The Silver Ferns threatened to pull away on several occasions but the tenacious Proteas ensured the match stayed tight with a spirited performance. The visitors held their composure well in the run home, four unanswered goals late in the final stanza sealing a deserved win for the Silver Ferns.
The youngest and tallest player across both teams, lofty 21-year-old goalkeeper Kelly Jury got her first start of the series for the Silver Ferns but it was the home team who made the best of starts.
Scoring the first three goals, the Proteas grabbed the early lead before the Silver Ferns sprung into life. With Jury, Grant and wing defence Samantha Sinclair flexing their defensive abilities and the team finding their groove on attack, the Silver Ferns gradually edged their way into the lead.
On the back of fluid attacking movement and making better use of their opportunities, it was the better finishing Silver Ferns who went to the first break with a 14-9 lead.
The Silver Ferns made three changes at varying stages of the second quarter with Temalisi Fakahokotau replacing Jury, Te Paea Selby-Rickit picking up the goal shoot bib from Bailey Mes and Kayla Cullen taking over from a busy Samantha Sinclair.
The visitors made further inroads to increase their lead to seven but took time to settle their changed line-up in the latter stages of the quarter. The Proteas grabbed their chances through a strong defensive showing from Karla Pretorious while Erin Burger and Precious Mthembu helped shut down New Zealand's midcourt to reduce the deficit.
Finishing the stronger, the Proteas narrowed the Silver Ferns lead to 25-21 at the main break.
The Silver Ferns made more changes during a tight third stanza with Sinclair returning at centre and Jury and Fakahokotau interchanging. A more patient SPAR Proteas, where dynamic little centre Bongiwe Msomi was in the thick of action, combined with effective in-circle defence helped keep the Silver Ferns in check.
With the experienced pair of Grant, on defence, and Grace Kara (nee Rasmussen), on attack, making their presence felt, the Silver Ferns weathered the storm to reclaim their buffer, narrowly winning the third term to take a 39-34 lead into the last break.
The Silver Ferns will meet the Australian Diamonds in the final Netball Quad Series match in Johannesburg on Sunday night (NZ time).