Taurua happy with team's growth in Birmingham
August 3, 2022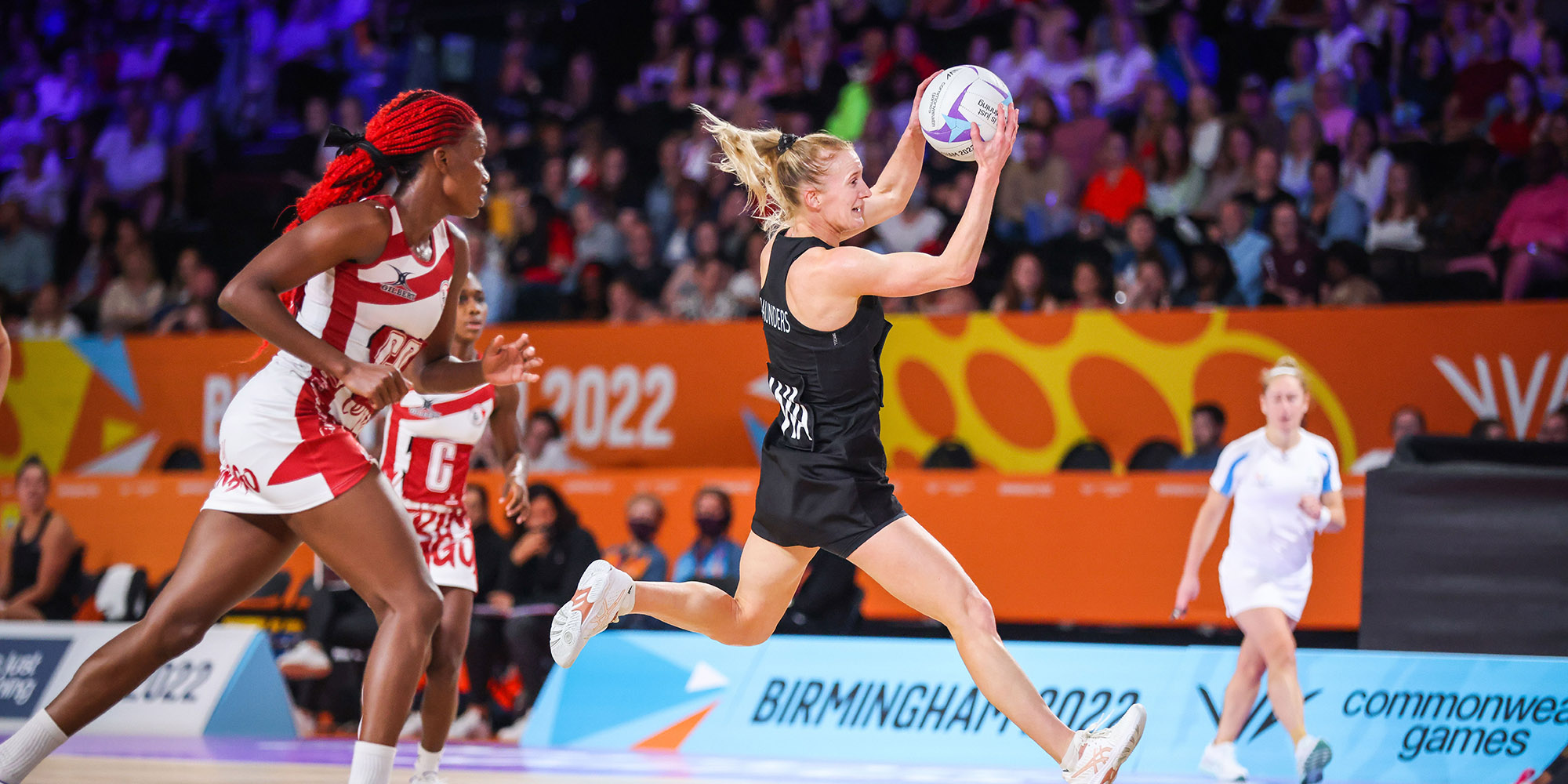 With sterner tests to come, the New Zealand team put the seal on their preparations with a commanding 80-24 win over Trinidad & Tobago at the Commonwealth Games netball tournament in Birmingham.

It provided the fourth straight win for the New Zealanders ahead of their last pool match against defending champions England on Friday (8am, August 5, NZ time), who also remain unbeaten in Pool A.

Looking to crack the 80-mark, New Zealand finished with plenty of intent, retaining their focus from go to whoa with a razzle dazzle finish where midcourters, Whitney Souness (centre) and Kate Heffernan (wing defence) were shining lights.

"I'm pleased with the adaptability, versatility and intent within our 12 to show some really good skillsets and I'm really happy coming out of that one,'' New Zealand coach Dame Noeline Taurua said afterwards.

"That game was already in bed by halftime and I think the discipline around ensuring we worked through our strategy and kept ball in hand was at times really good."

"I'm really happy with the growth I've seen from this group. We're doing the best that we can, I've seen massive shifts and growth in each individual, so I'm happy.''

Usual shooter Bailey Mes showed her versatility after getting the start at wing attack as New Zealand continued to explore their options and depth on attack. It is not a totally foreign position for the athletic Mes, lining up in her 76th test, after making her international debut from the wing in 2012.

Mes ended the match at goal attack, finding her range to finish with a creditable eight from 10 for the quarter.

It didn't take long for New Zealand to hit their straps, the flow of goals coming with relative ease in a dominant opening. The height at both ends of the court with shooters Grace Nweke and Maia Wilson under the hoot and Kelly Jury, Sulu Fitzpatrick and Kate Heffernan patrolling the defensive end caused plenty of headaches for Trinidad & Tobago.

Goal attack Wilson played a strong role in opening up space for Nweke where feeders Mes and Souness had the perfect target, the 20-year-old delivering 15 shots from 16 attempts in the opening stanza.

Struggling to breach New Zealand's defensive line, the 10th-ranked Trinidad & Tobago faced an uphill battle when trailing 22-5 at the first break.

There was a raft of changes from New Zealand on the resumption with the attack line of captain Gina Crampton, Wilson and Te Paea Selby-Rickit impressing with their timing as the pressure on Trinidad & Tobago continued unabated.

Centre Oprah Douglas was a livewire through the midcourt for Trinidad & Tobago but errors and a high penalty count detracted from their efforts to make inroads.

There was a relentless wave of attacking momentum from the New Zealanders, the through-court transition, on most occasions, being slick and accurate.

Trinidad & Tobago struggled to retain possession for consistent lengths of time, New Zealand nailing their opportunities with Wilson converting 16 from 16 for the half and Selby-Rickit a perfect 12 from 12 for the quarter as the world champions took a commanding 43-11 lead into the main break.

After an enterprising start, Trinidad & Tobago delivered their best passages during the third quarter with a more patient showing on attack while in-circle defenders Jeresia McEachrane and captain Shaquanda Green put in a strong shift to slow New Zealand's scoring opportunities.

Moving to goal attack, Selby-Rickit continued her good form, promoting the return of Nweke to the court with her clever off-loads and positional play.

There was no denying New Zealand's overall vice-like grip on the game when taking a decisive 59-18 advantage into the last break.